Hey everyone, if you've been looking for the perfect cryptocurrency outreach tool, you've just found it! Printable DASH tips! (eventually we may add other cryptos to the site) We're launching the public beta and this is the feedback and support thread for it.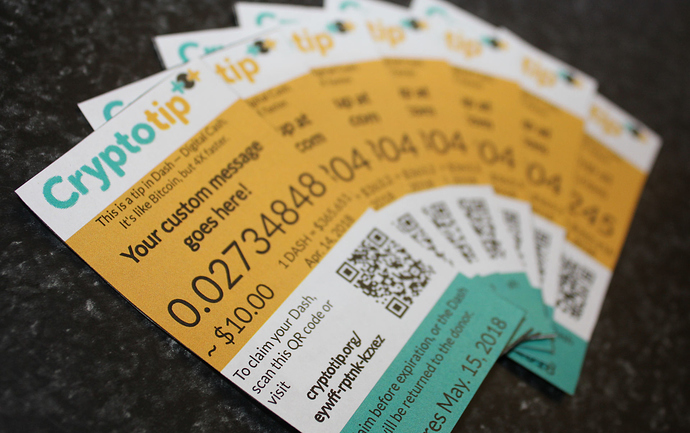 Just visit Cryptotip.org and you can order and print up as many tips as you like, in the dollar amount you choose. They are business card sized with unique URL QR codes that will give the recipient instructions on the basics, like setting up a wallet and then will allow them to release the DASH you've allocated to them, directly into their wallet!
Plus, they are trackable. Once you get your tips, you can visit your page on the site to enter helpful notes about each tip you leave. So, you could jot down the name of the server and restaurant you were at, for instance. Then, if the server redeems the tip, you'll get an email alert letting you know!
Also, if they DON'T redeem the tip, they expire and you get the DASH back in the wallet you specified when you created the tips, and you choose the expiration date!
These things are great - I hope you find them as useful as we do. They were originally inspired by bctip.org, which did this with BTC, but the fees just got too insane last year, so after I asked bctip if they'd add other cryptos and he said no, I brought in @error to program an altcoin version and we chose DASH as the first crypto on the site.
Feel free to leave any comments, critique, suggestions, or tech support requests here.
Helpful suggestion: Always leave a good cash tip PLUS the cryptotip. If you don't, you're guaranteeing the server won't look at your cryptotip.