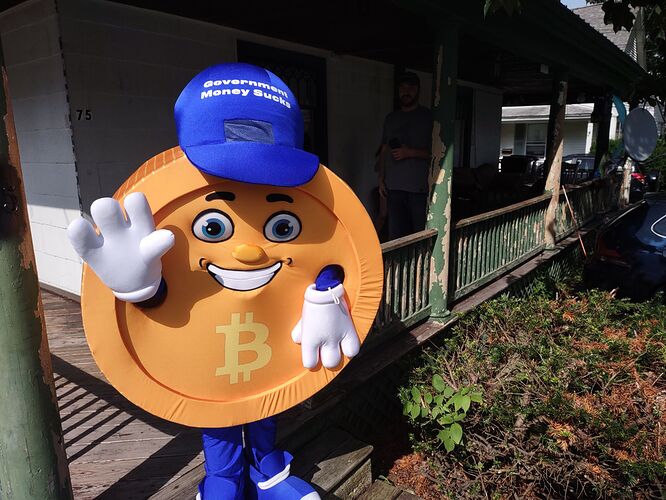 Who: Mr. Bitcoin, aka "TJ the Spy"…former co-host on the beleaguered Free Talk Live radio program. He's a former Federal (NSA) employee who has defected to our side. His real life name is TJ Cleveland, and he dresses up as a giant Bitcoin using his professional sports mascot outfit. He'll likely be joined by a group of supporters including me in my own costume (BitcoinGandhi.net).
What: New Hampshire's tenth demonstration against the Federal raids on local Bitcoiners:
"NH: FBI Bitcoin Raid. Main thread, one stop shop for info"
Where: First protest is outside the Federal building, 55 Pleasant St., Concord, NH
When: Monday, July 26, 2021. 10:00a.m.
Why: "To educate the government about Bitcoin, and encourage the prosecutor, Georgiana Mac Donald to install a crypto wallet like coinomi, edge, or Exodus" - Mr. Bitcoin
How: This is the first of multiple demonstrations he is scheduling around the area, probably ending a day later.
Update July 21:
Posted this thread to to about 6 telegram groups. Set up Facebook event. Called in to Free Talk Live about it.
https://www.facebook.com/events/521111318945426/?acontext={"event_action_history"%3A[{"mechanism"%3A"calendar_tab_event"%2C"surface"%3A"bookmark_calendar"}]%2C"ref_notif_type"%3Anull}
More updates and details likely to follow